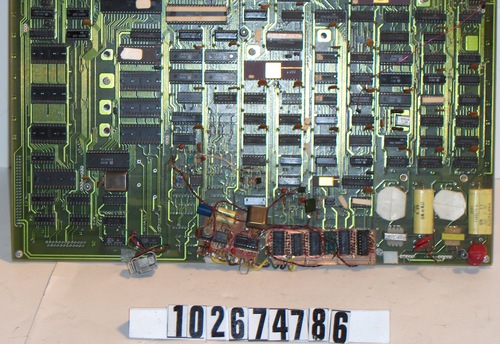 Manufacturer
Telebit Corporation
Dimensions
overall: 2 in x 16 1/2 in x 19 in
Category
interconnect/network/modem
Curator Notes
Donor note: This breadboard represents the first practical use OFDM (Orthogonal Frequency Division Modulation). Its theory and implementation is described in Paul Baran US Patent No. 4,438,511, filed Nov. 10, 1980 and issued March 20, 1984. In this technology the transmission band is divided into an ensemble of frequencies, with an exact spacing between each so the nulls of each modulated carrier fall precisely into the nulls of adjacent frequencies. This allowed putting the frequencies very close together and each can carry multiple bits. Handshaking between the two communicating units establishes the characteristics of the channel and determines the number of frequencies and the patterns that are usable. Everything was carried as packets.

While OFDM is now the modulation of choice for most wireless transmission applications, these concepts were not regarded as being feasible at the time. This breadboard was then built as a working proof of concept. This breadboard is one of a pair two identical units designed and built by Paul Baran, David Caulkins and Eugene Wilson in 1980. The units worked as planned, and the modem's ability to work with poor quality telephone lines previously unusable for data made this modem particularly desirable in parts of the world with poor quality telephone lines.

The technology contained in this modem launched the start of the Telebit modem company, eventually acquired by Cisco.
Credit
Gift of Eric Smith