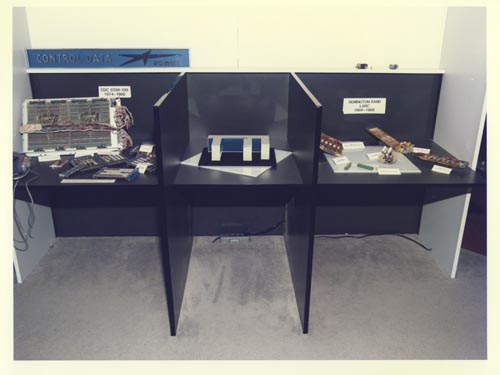 Title
LLNL Computer Museum -- NCC Control Data Star 100 exhibit
Date
1984 ca.
Publisher
Lawrence Livermore National Laboratory
Place of Publication
Livermore, CA, US
Dimensions
overall: 8 1/2 in x 11 in
Description
Color image of a Lawrence Livermore National Laboratory Control Data Star 100 exhibit at the 1984 National Computer Conference. It is in a partioned cubicle. There is a electronics board and seversl other artifacts in the left pafrtition. A label " CDC STAR-100 1974-1980" There are two other cubicle partions. The middle one has a miniture system mockup and the right one has a "REMINGTON RAND LARC 1980--60-1968" label with some labeled artifacts.
Category
Photograph