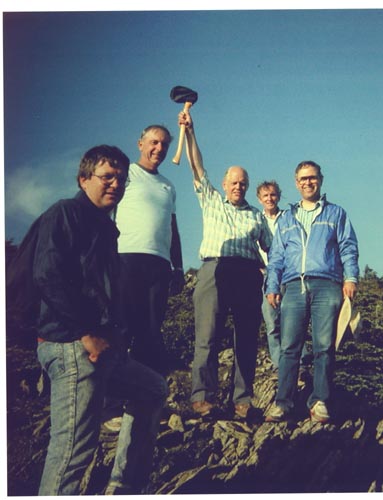 Title
DEC Executives 1989 Woods Meeting
Description
DEC executives celebrate the traditional climb of Bald Mt, ME. !989 "Woods Meeting" at Ken Olsen's camp at Heald Pond. At the summit of Bald Mt., ME 5 miles north of Heald Pond.
Verso: pencil.
Left to right: Kurt Fredrick - VMS eng.; Bill Demmer - VAX eng - mid range systems: Ken Olsen- CEO with axe; Marky Hoffman - G.C.; Bob Gloviso - VAX 9000.
Picture by Grant Saviers - Storage Systems.
Date
1991 ca.
Dimensions
overall: 11 in x 8 1/2 in
Category
Photograph