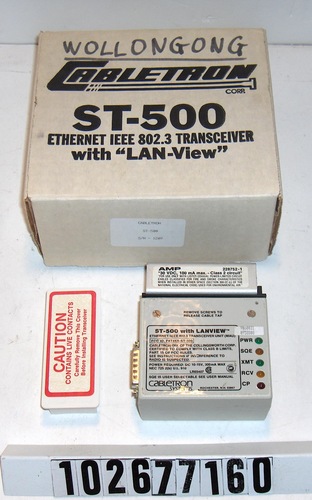 Title
ST-500 Ethernet transceiver
Date
1989
Manufacturer
Cabletron Corp.
Identifying Numbers
Model number
ST-500
Other number
0958808
Printed on sticker
Other number
228752-1
Printed on the AMP coaxial part
Other number
802.3
Printed on outside of box
Other number
9060031
Printed on sticker
Dimensions
overall: 1 3/4 in x 3 1/2 in x 3 7/8 in
Description
Printed on outside of box is, "ST-500 ETHERNET IEEE 802.3 TRANSCEIVER with "LAN-View"." Handwritten on outside of box is "WOLLONGONG." Object consists of transceiver, part of AMP coaxial kit, plastic cover for live contacts, and original packaging.
Category
Networking/switch