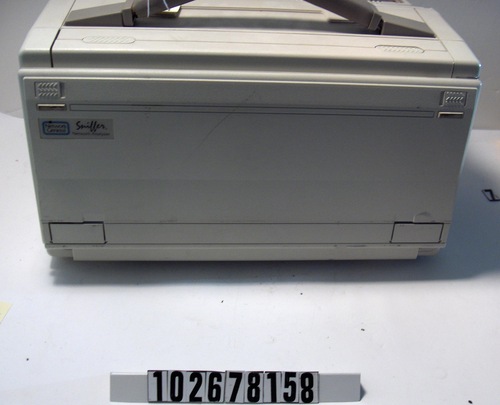 Title
Sniffer Network Analyzer
Date
ca. 1989
Manufacturer
Network General
Place Manufactured
U.S.
Identifying Numbers
Model number
2670
Other number
107797-003
On a label on bottom of object
Other number
21102
On Compaq barcode label on back of object
Serial number
4116HN3H0340
Dimensions
overall: 9 1/2 in x 15 3/4 in x 10 in
Description
Object is a plastic case with a carrying handle on top. A full keyboard snaps into the front of the case. When the keyboard is released (by two tabs on the face of the keyboard) it exposes an LCD screen. On the left of the screen is "COMPAQ" and on the right, "386/20". On the bottom of the edge of the screen is the label and logo "Network General Sniffer". The screen can be released by two more tabs and then it swings out and up. A cover is missing from the upper rear side, exposing a PCB.
Category
Digital computer/portable / luggable