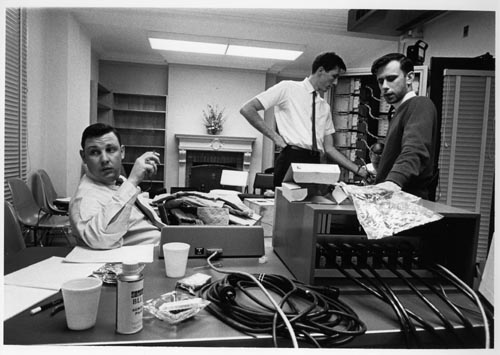 Title
LINC engineers at work
Date
1960 ca.
Publisher
Massachusetts Institute of Technology (MIT). Lincoln Laboratory
Place of Publication
Lexington, MA, US
Dimensions
overall: 8 in x 10 in
Description
This is black and white photograph of a four men in a makeshift setup room. In the foreground is a table with cables and the rear of a cabinet
with cables attached also the rear of a keyboard with cable attached.. The table also has coffee cups, ash trays, areosal spray can, and a small screwdriver. The man seated at the desk is smoking a cigarette. On the rear wall is a mantlepiece and fire place. There are empty bookshelves at the rear of the room. Two of the men are working on a large electronics cabinet. The center of the room has packing cases and packing material.
Category
Photograph
Credit
Courtesy of Gwen Bell