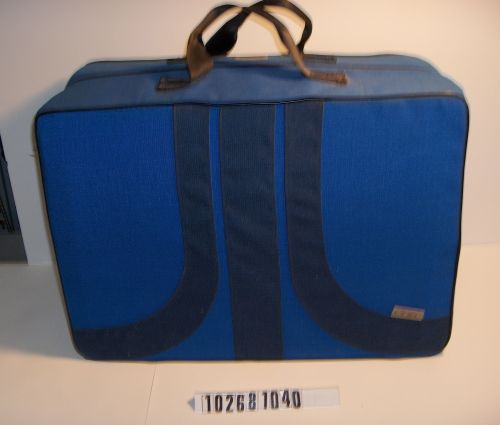 Title
Atari 800 system in carrying case
Date
1979
Manufacturer
Atari, Inc.
Identifying Numbers
Model number
800
Model number
810
On floppy drive unit.
Model number
850
On junction box.
Model number
CA014748
Power supply for peripheral units.
Model number
CD61982
Power supply for main computer unit.
Model number
CX801
Operating system 10K ROM.
Model number
CX853
16 RAM memory module (3).
Model number
CXL4002
BASIC computing language module (3 pieces).
Model number
CXL4005
Video Easel computer games module.
Model number
CXL4006
Super Breakout computer games modules.
Model number
CXL4007
Music Composer computer program module.
Model number
CXL4011
Star Raider computer games module.
Model number
CXL4015
Telelink I computer communications module.
Other number
0 30 0788
Stamped in silver on bottom of the computer unit.
Other number
AN002396
Label on underside of junction box unit.
Other number
G 030 0788
Rubber stamped on label on underside of computer unit.
Other number
WW031/28
Label on underside of computer unit.
Dimensions
overall: 16 in x 22 1/2 in x 10 1/2 in
Description
Object consists of 1 computer/keyboard unit, 1 floppy drive unit, 1 junction box unit, 2 power supplies, 9 plug-in modules, 1 blue fabric foam-lined carrying case. Case has leather label on the top that reads "The Micro Case, the Casemaker", and the leather label on front reads "1975". Junction box unit has on/off power switch, power on LED light, 2 I/O connectors, 4 serial interface connectors, and 1 parallel interface connector.
Category
Digital computer/personal computer/desktop
Credit
Gift of Joey Tranchina