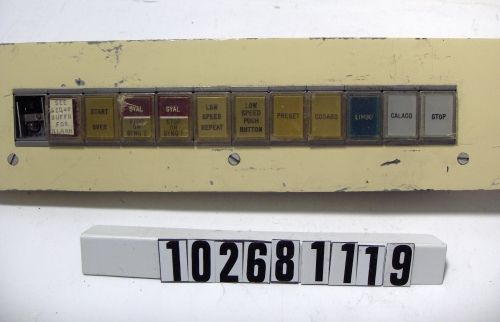 Title
MIT TX-2 punch/audio controller
Date
1958 ca.
Manufacturer
Massachusetts Institute of Technology (MIT)
Place Manufactured
U.S.
Dimensions
overall: 3 1/2 in x 28 1/2 in x 3 in
Description
Object is a wide panel with a number of illuminated push-buttons, three male audio connectors and one female audio connector. The female audio connector has an engraved label "AUDIO INPUT" and a loose engraved label reading "DISPLAY AUDIO OUTPUT / HORIZONTAL / VERTICAL" (bagged and attached) applied to two of the male audio connectors. The push-buttons bear such labels as "STOP", "CALACO", "LIMBO", "CODABO" and others.
Category
interconnect