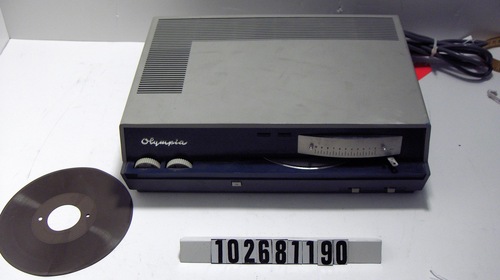 Description
This object consists of recording/playback machine with a removable 6 inch diameter magnetic disk. Disk is Telefunken "Made in Western Germany 115 SK."

The IBM System/370 Model 158 mainframe computer engineering team was looking for a solution that could hold microcode that could be loaded into the mainframe and store error log data for analysis. During the Model 158 development, initial experiments attempted loading microcode into the mainfraime from a 33-1/3 RPM Garrard turntable that played digital recordings. It was read only, so firmware loading was possible, but error logs could not be recorded on the device. So the engineering team was still searching for a solution when Ed Donnor (an engineer on the project) saw this dictation machine at a New York airport Duty Free Shop and bought it for the project.

This Olympia magnetic dictation machine records onto (and plays back from) a mylar diskette which had a spiral groove that a needle tracked. This dictation machine was used on a Model 158 processor prototype for a period during the processor's development effort. This device achieved the reading and writing requirements for the Model 158, but it was not appropriately packaged and was not truly random access. The device was shown to the IBM San Jose laboratory engineers and they were asked to develop a derivative of this device that better fit the full requirenents of a computer data storage device. (It is claimed that the IBM San Jose laboratory was already proceeding on the development of the 33FD before the device was shown to them. The Donor has no knowledge regarding the state of the 33FD development at that time.) When the IBM System/370 Model 158 shipped, the 33FD 8-inch floppy diskette drive made by IBM's San Jose Lab was included. Unlike this dictation machine, it was true random access.

The Donor joined the mainframe processor group at IBM Pougghkeepsie in 1978 [after the IBM System/370 Model 158 was in production] to work on the IBM System 370 Model 3032 processor (the replacement for the IBM System 370 Model 158). The Donor's manager, Donald Hitt, gave him this relic. When donor volunteered at the Computer History Museum, he donated this device and an accompanying digitally recorded diskette.
Date
c. 1970
Manufacturer
Olympia AG
Place Manufactured
Germany
Identifying Numbers
Deprecated CHM identification number
X2521.2003
Depricated catalog number
Model number
TYP DG 20 N
Dimensions
overall: 3 1/2 in x 13 1/8 in x 9 3/4 in
Category
Memory & storage/other
Credit
Gift of Bob Feretich