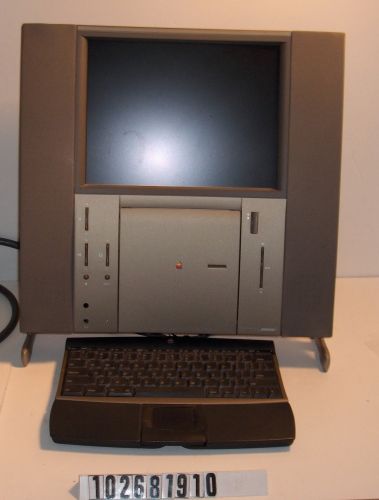 Title
Twentieth Anniversary Macintosh CPU/monitor and keyboard
Description
Object consists of CPU/monitor unit, keyboard, and manual in original packaging. Package indicates that this is box 2 of 4. Label on top of box reads "Virgina Boyd Colletti 1056 Kildare Avenue, Sunnyvale, CA 94087-5030". Size/weight is for the box.
Date
1997
Manufacturer
Apple Computer, Inc.
Place Manufactured
US
Identifying Numbers
Model number
M3450
Model number
M3459
Keyboard model number.
Other number
500124907952
Handwritten on tape inside the door on the back of the CPU/monitor unit.
Other number
CA N4605374
Appears 2 places: CPU and keyboard, underside of each.
Other number
MW75058C8HA
On a barcode label under the cover on the back of the CPU/monitor unit.
Serial number
AP7470UX6HVA
On barcode on underside of keyboard.
Dimensions
overall: 9 in x 22 1/2 in x 22 1/2 in
Category
Digital computer/personal computer/desktop
Credit
Gift of Robert E. Coletti