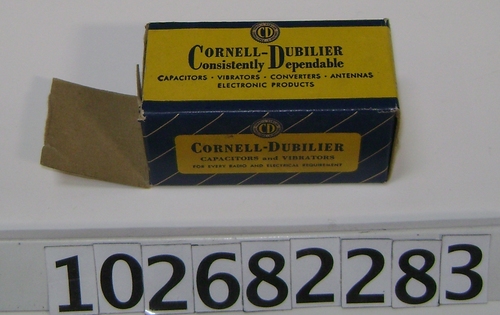 Title
Vacuum tube type 5WL5Q5 box
Manufacturer
Cornell-Dubilier Electric Corporation
Place Manufactured
U.S.
Identifying Numbers
Model number
5WL5Q5
Model number of vacuum tube this box used to contain.
Other number
.00005 MFD
Other number
5 PCS.
Other number
500 V
Dimensions
overall: 1 3/4 in x 5 1/4 in x 1 3/4 in
Description
The object is a cardboard box for a vacuum tube. The original model number has been crossed out in pencil, and "6SL7" written next to it. The box did not contain a vacuum tube when cataloged.
Category
Miscellaneous/packaging
Credit
Gift of Gene M. Amdahl