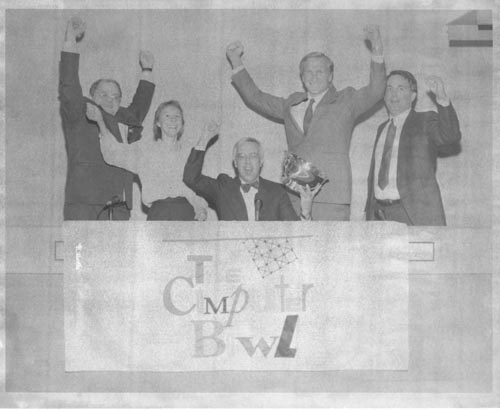 Title
Computer Bowl - East Coast Wins!
Date
1988 ca.
Photographer
Fields, Bob
Publisher
The Computer Museum
Place of Publication
Boston, MA, US
Dimensions
overall: 8 in x 10 in
Description
B&W. Image of East Coast winners of the Computer Bowl. The winners are behind a table with a banner in front. Richard Shaffer is seated holding the winning crystal bowl trophy.
Verso Label: " The East Coast wins the world's first Computer Bowl, October 7, 1988, at the World Trade Center in Boston, Mass.
Sponsored by The Computer Museum, Boston, the Bowl matched longtime industry rivals in a contest of computer smarts.
From left to right
Dr. John William "Bill" Posuska, Sr. Chairman and CEO of Stellar Computer; Esther Dyson Editor-Publisher of Release 1.0; Richard Shaffer (team captain) Editor-Publisher, Technologic Computer Letter; David Hathaway Partner, Venrock Associates; Mitchell Kapor Chairman, ON Technology.

Photo credit: Bob Fields, Carousel Photographers
A project of The COmputer Museum 300 Congress Street Boston, MA (617) 426-2800"
Category
Identification photograph
Credit
Courtesy of Gwen Bell