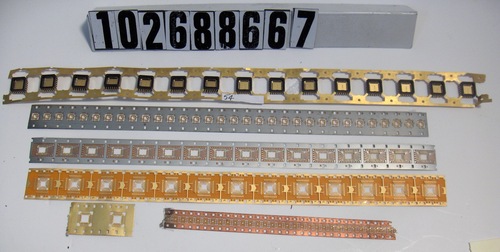 Dimensions
in box: 1 in x 12 in x 7 in
Description
The object consists of samples of 6 different kinds of chip carriers in tape form.
The object is described by donor as:
#59 - Not to be left out, manufacturers of flexible printed circuit tape began
flooding the market with super-fine-line geometries, executed on reel-toreel
tape patterns, as shown in this collection from some 40 different
suppliers. The reel-to-reel tape assembly process for packaging chips took a
huge turn upward in the 1970s, when National Semiconductor launched its
TAB (tape automated bonding) program with 3M Corporation, in
developing a fully automated gang bonding process. Samples of this are
shown in this collection.
Category
Component/Semiconductor/other
Credit
Gift of SEMI