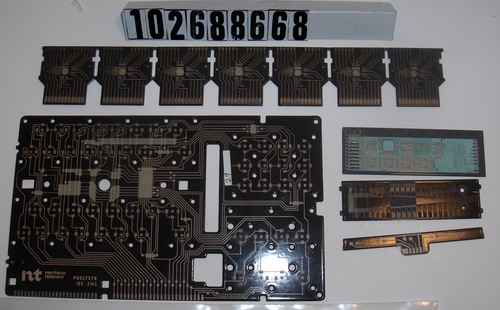 Title
Erie Ceramic Arts IC packages
Description
Object consists of 5 samples of circuit board made with steel and ceramic, described by donor as:
In order to achieve significant cost reduction, materials engineers
everywhere were looking for alternate ways of manufacturing integrated
circuit packages. This approach came from Erie Ceramic Arts, and
effectively utilized the same technology as is used in manufacturing the
chassis of washing machines and dryers. The technology uses rigid steel
plate with an overcoat of porcelain. The porcelain is then screen-printed
with a metallized paste, and sintered to create patterns on the surface of the
porcelain insulation. The underlying metal can then be used for chip
mounting. Several attempts at using this technology were made during the
late 1960s, but the weight factor, and imperfect surfaces of the porcelainized
steel could only be used for non-critical thick film circuitry on panels where
weight was not an undesirable feature.
Identifying Numbers
| | | |
| --- | --- | --- |
| Other number | 29 | Donor key number |
| Other number | B-2 | Masking tape on one board |
| Other number | P0617578 ISS 2W1 | Printed on largest sample |
Dimensions
overall: 1/8 in x 14 in x 14 in
Category
Component/Semiconductor/IC
Credit
Gift of SEMI