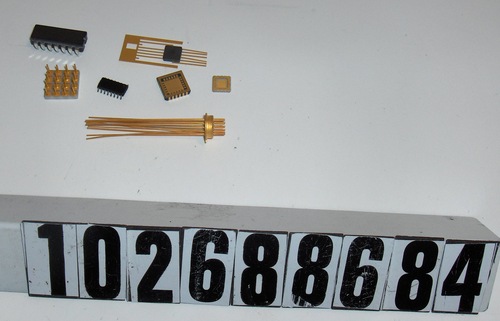 Title
Integrated circuit packages
Dimensions
overall: 3/4 in x 3 3/4 in x 1 3/4 in
Description
Object is a collection of integrated circuit oackages, some unfinished, described by the donor:

#I- This collection of seven parts presents the most ubiquitous package types
used over the past half century. These packages protect semiconductor
integrated circuits, while facilitating their attachment to the next level of
hardware, which is usually a printed circuit board. The original TO
(transistor outline) headers were the package of choice throughout the
1950s. These small circular metal rings with up to 12 wire leads, held in
place by insulating glass beads, were an outgrowth of simple transistor
packages with 3 leads in the same format.
Category
Component/Semiconductor/IC
Credit
Gift of SEMI