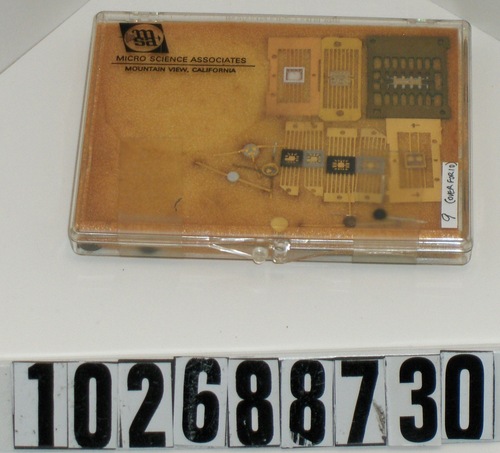 Title
Integrated circuit packages
Description
The donor's description of this object is as follows:
"There are a series of small 3-lead transistor packages and a collection of seven flatpaks designed with ceramic substrates attached to metal stamped leadframes. Also included is an early version of one dual inline package (DIP) prior to lead separation and encapsulation."

There are 14 pieces in this collection and accession number.
Identifying Numbers
| | | |
| --- | --- | --- |
| Other number | 9 | Key number provided by donor on a label on the box |
Dimensions
in box: 1/4 in x 4 5/8 in x 3 5/8 in
Category
Component/Semiconductor/IC
Credit
Gift of SEMI