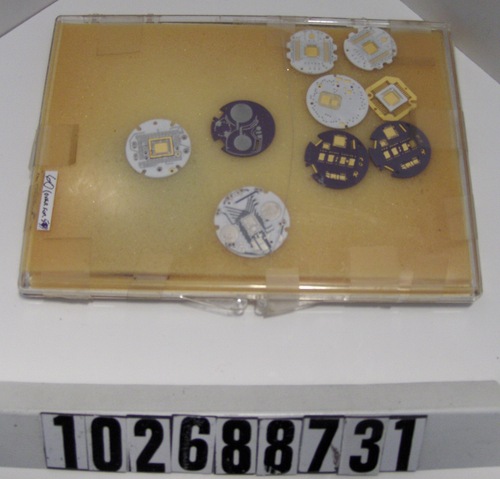 Title
Watch module substrates
Identifying Numbers
| | | |
| --- | --- | --- |
| Other number | 60 | Key number provided by the donor is on a label on the box. |
Dimensions
in box: 1/4 in x 7 in x 5 in
Description
The donor describes this object as follows:
"During the early 1970s, solid state watch modules began to appear, as shown in this array. Such modules were initially directed at the emerging LED watch market, which used single chips to present each of the 4-digit displays. As time progressed however, the industry switched away from LED watches in the mid-1970s, with the introduction of liquid crystal displays, as shown in item #61"

There are 9 pieces in this accession number..
Category
Component/other
Credit
Gift of SEMI