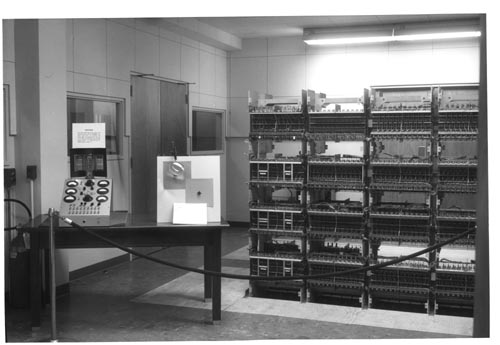 Title
Johnniac - Exhibit 1700 Main Open House
Description
Black and white. Johnniac exhibit at 1700 Main Open house. To the right is Johnniac mainframe without components installed. To the left is a table with two exhibits.
The left exhibit shows a selectron tube tester. The label: "Selectron This special RCA tube will be used in the internal memory of the Johnniac machine. Each tube can remember 256 binary digits. As exhibited here, the tube is in a test unit, the green spots indicate where a digit '1' is stored and an unlighted spot a '0'". The exhibit on the right has a magnifying glass over an unknown object. There is an unreadable label.
in front of the exhibt are standards with cloth cables to restrict visitors.
Identifying Numbers
| | | |
| --- | --- | --- |
| Other number | #1538 | Verso pencil |
Dimensions
overall: 8 in x 10 in
Category
Photograph
Credit
Courtesy of Gwen Bell