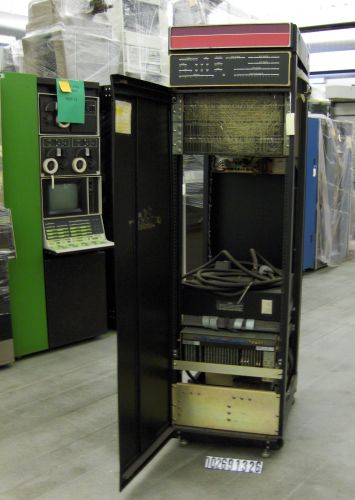 Description
This is a system cabinet not containg a PDP-11/20, but containing the following components:
disk drive status panel; unknown logic unit; hard disk drive; memory unit; power supply.
Sign affixed to front reads: "Digital Historical Collection Program thanks the Callier Center for Communication Disorders at the University of Texas at Dallas for the donation of this PDP-11/20, serial number 719."
Date
1970 ca.
Manufacturer
Digital Equipment Corporation (DEC)
Identifying Numbers
| | | |
| --- | --- | --- |
| Model number | pdp 11/20 | Referenced on sign affixed to front of unit. |
| Other number | 5164 | DEC label on the left of memory unit |
| Other number | 5164 | DEC label on the right of memory unit |
| Other number | 5372 | DEC label on disk drive |
| Other number | RS08M | DEC label on disk drive |
| Other number | RS09 | DEC label on the right of memory unit |
| Other number | RS11 | DEC label on the left of memory unit |
| Serial number | 719 | Printed on sign affixed to front. |
Dimensions
overall: 72 in x 20 in x 30 1/2 in
Category
Digital computer/minicomputer