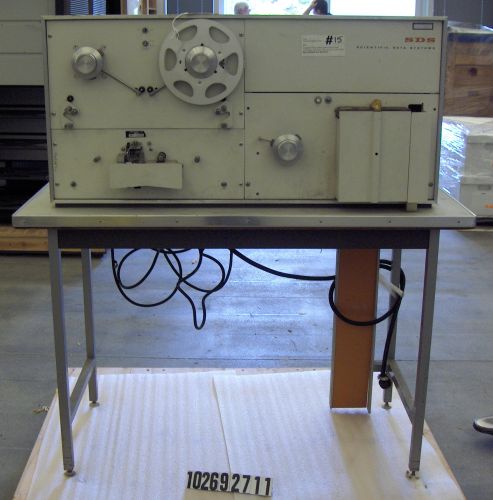 Title
SDS 920 paper tape reader and punch
Date
1962 ca.
Manufacturer
Scientific Data Systems (SDS)
Identifying Numbers
| | | |
| --- | --- | --- |
| Other number | 128271 8/9 | On National Bureau of Standards tag on front. |
| Other number | 15 | Paper label on front |
| Other number | 17573 | ESSA property tag on front |
Dimensions
overall: 49 in x 45 in x 22 1/8 in
Description
The record contains an paper tape reader and punch affixed to a table. On the tape reader, in the bottom right corner, there is a punch and a plastic chad collector encased in a metal box. To the left of the chad collector is a bottom and switch. The button is labeled "feed" and the switch is labeled "auto run". There is a vent running horizontally along the back of the unit. There are cables cokming out from the machine and table and are haging underneath the table. One of the cables terminated in a male standard American 3 prong wall plug.
Category
I/O/paper tape
Credit
Gift of National Oceanic and Atmospheric Administration (NOAA)