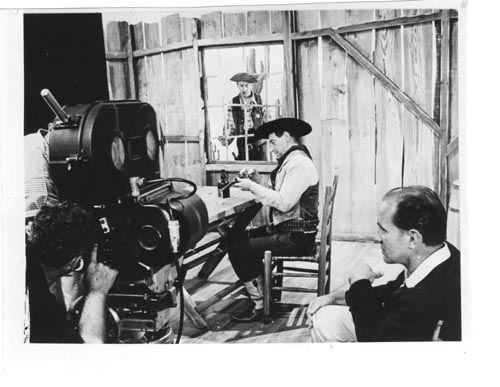 Title
Western drama written by TX-0
Description
The bottom leftquadrant of this sheet is a black and white image of a room that looks like an indoor saloon or bar setting.
A cowboy is seated at a table loading his pistol. Another cowboy is outside looking into the room from a window. In the left foreground is a movie camera with a cameraman an in the right foreground is a man seated in a chair.
Written on verso side of image is "The first computer-written western w/Jack Gilford in The Thinking Machine'". Written on pencil on verso side is "#5023".
also on verso: "CBS. The Thinking Machine" in ink ." Also "Comp[uter Museum" in pencil.
Identifying Numbers
| | | |
| --- | --- | --- |
| Other number | #5023 | Verso pencil |
Dimensions
overall: 3 3/4 in x 5 in
Category
Identification photograph; Publicity photograph
Credit
Courtesy of Gwen Bell