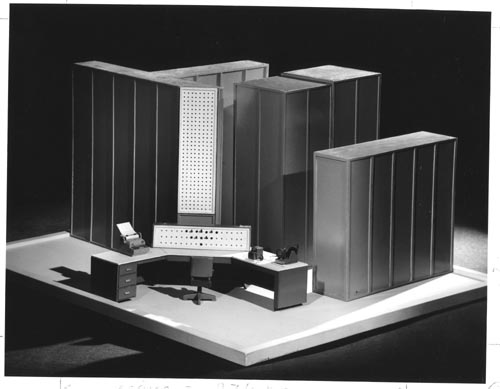 Title
ILLIAC II - Mock-up
Identifying Numbers
| | | |
| --- | --- | --- |
| Other number | #22376 | Verso blue stamp |
| Other number | 2 21 2 | Verso black stamp |
| Other number | 62-#24 | Verso red pencil |
| Other number | 64.0 | Verso red pencil |
| Other number | 79131 | Verso red stamp |
Dimensions
overall: 8 in x 10 in
Description
This is a black and white image of an ILLIAC II mockup. Shows several large cabinets with a console desk, chair and teletypewriter.
Verso " Illiac II early mock-up"
Has red marks on recto margins, alsoon bottom margin red "reduce to 27 1/2 pica" with arrows to marks. Onrecto top margin has black "133 line screen"
Category
Photograph