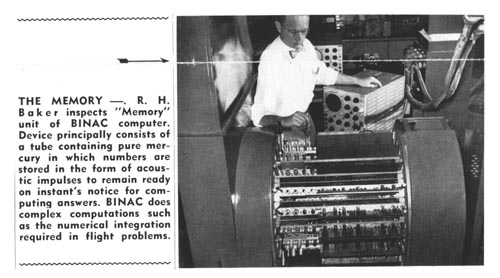 Description
B&W image of R.H. Baker with BINAC mercury delay line memory. This was taken from a news article.
Label to right has arrow pointing to image. Recto: THE MEMORY - R.H. Baker inspects "Memory" unit of BINAC computer. Device principally consists of a tube containing pure mercury in which numbers are stored in the form of acoustic impulses to remain ready on instant's notice for computing answers. BINAC does complex computations such as the numerical integration required in flight problems."
Verso: "BINAC at Northrop Aircraft installation Northrop News, May 31, 1950"
Date
1950-05-30 ca.
Publisher
Northrop News
Identifying Numbers
| | | |
| --- | --- | --- |
| Other number | Item 15 | Verso pencil |
Category
Photograph