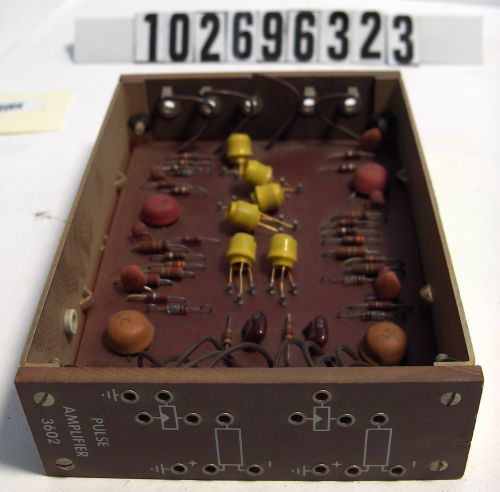 Title
DEC Pulse Amplifier 3602 Laboratory Module
Date
1958 ca.
Manufacturer
Digital Equipment Corporation (DEC)
Identifying Numbers
Model number
3602
Other number
3/19/63
Printed on Dymo label on side
Other number
4/1/63
Printed on DEC property sticker
Other number
PULSE AMP. 3602 A 01050
Etched on wiring side
Serial number
32040
Dimensions
overall: 4 1/4 in x 1 1/2 in x 6 1/4 in
Description
Printed on Dymo label on side is "MODEL 3602 3/19/63". "MODEL" is hand scratched into frame. There is DEC property sticker on the side. Printed on this sticker is "4/1/63". There are orange "X's" written on the wiring side.
Category
Component/module