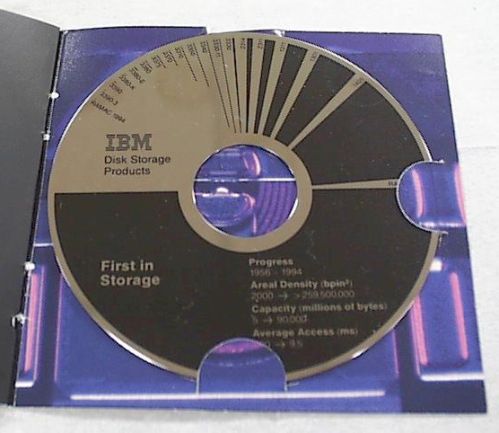 Title
RAMAC : we rewrote the book
Description
A square promotional pamphlet, numbering four pages, and showing progress in IBM magnetic disk technology. The last page holds a circular magnetic head platter labelled "First in Storage" with inscribed areal density figures, showing diagramiatically in black the amount of physical area required to store 1MB. The disk display begins with figures from the original RAMAC in 1956 and ends with those of the IBM 3390-3 in 1994.

Text reads: IBM Disk Storage Products First in Storage Progress: 1956-1994 Areal Density (bits per square inch): 2000 ---> 259,500,000 Capacity (millions of bytes): 5---> 90,000 Average access (ms): 600--->9.5 Donor note: "The black area on the disk represents the reductino in area required for recording 1MB of data on a disk. As the areal density increased, the area was significantly reduced in size."
Date
1994
Manufacturer
International Business Machines (IBM)
Place Manufactured
U.S.
Identifying Numbers
| | | |
| --- | --- | --- |
| Deprecated CHM identification number | X1582.99 | A duplicate record was created with this number. That record was deleted and any information was incorporated into this record. |
Dimensions
overall: 1/8 in x 4 1/8 in x 4 1/8 in
Category
Ephemera/other