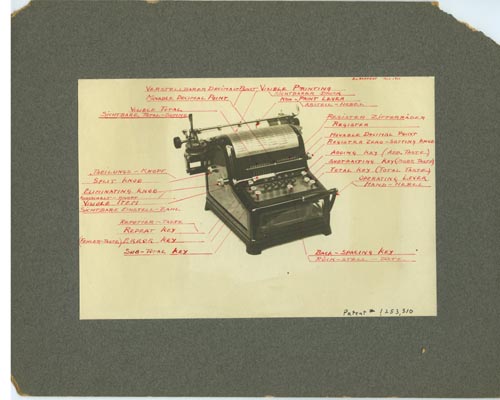 Title
Von Reppert Calculator with labels
Date
1911 ca.
Dimensions
overall: 5 3/4 in x 7 1/4 in
Description
B&W image of the Von Reppert calculator. It has red lettering with pointers to different operating features. The labels are in German and English.
At the top right margin "R.v. Reppert July 1911 Bottom righrt margin Patent # 1,253,310. The photograph is mounted on heavy cardboard which has damage at the corners. Acquisition # 568.85
The following was taken from the Computer Museum Highlights Report, Volume 14 Fall/Winter :
"Prototype Von Reppert Calculating Machine. This artifact is truly one of a kind. It is a prototype of a calculating machine built by its inventor Richard von Reppert. Patented in 1918, the von Reppert calculator could perform "the four fundamental calculations, addition, subtraction, multiplication, and division, as well as other useful commercial work, in a practical manner." Von Reppert sold this and several other patents relating to mechanical office machines to the Underwood Company in 1920.

Over the course of his career von Reppert received over 40 patents either in conjunction with others or on his own. These include two patents issued by the German and French governments, and 8 for floating point arithmetic mechanisms for mechanical calculators. In addition ' to being a solo inventor, von Reppert also worked for the Underwood Company and IBM for many years.

Donated by Erwin ]. and Richard W Reppert "
Category
Photograph
Credit
Courtesy of Gwen Bell