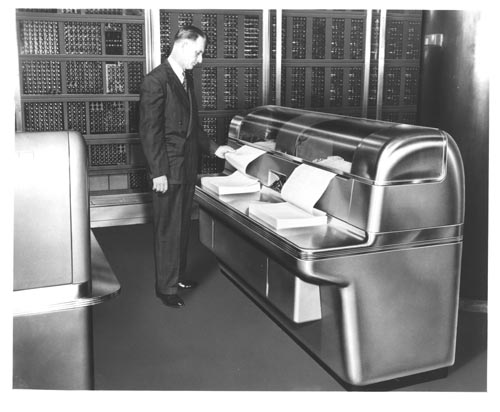 Date
1948 ca.
Dimensions
overall: 8 in x 10 in
Description
B&W image of two IBM SSEC Printers. . In the rear one a man is examining the printout as it emerges from printer. . In the background are other
machine components .
Verso: "Printers, which record at the rate of 24,000 digits a minute, give a running account of results produced the the IBM SELECTIVE SEQUENCE ELECTRONIC CALCULATOR. The scientist thus can follow the progress of a calculation and modify his program in the light of results as they are derived. This is of particular advantage because this calculator will be devoted largely to research problems in which the calculations cannot be planned completely in advance. ( January, 1948)"
Category
Photograph