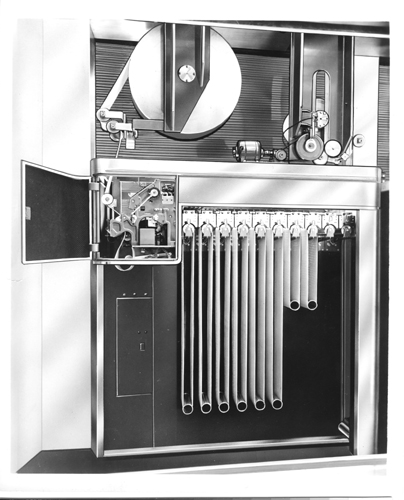 Title
IBM Selective Sequence Electronic Calculator
Dimensions
8 x 10 in.
Description
Black and white drawing of IBM SSEC paper tape reader. Has door open to show reading components.
One of the three punched hole memory units of the IBM SELECTIVE SEQUENCE ELECTRONIC CALCULATOR
which consists of ten reading stations and a device for punching intermediate results in continuous card-stock
tapes for use as needed in later phases of a calculation. Such punching is done at the rate of 1,200 lines a minute and each line of punching stores 19 digits and an algebraic sign. Reading is done at about the same rate of speed. (January, 1948).
Category
Photograph of a Drawing
Credit
Courtesy of Gwen Bell