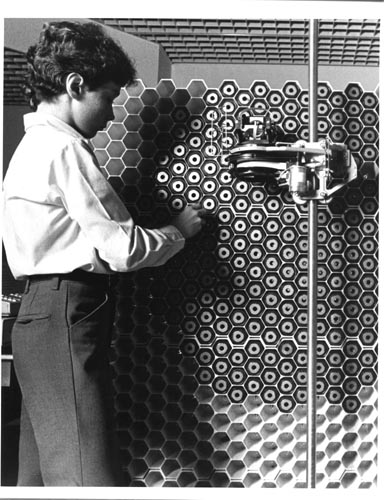 Publisher
International Business Machines Corporation (IBM)
Place of Publication
Armonk, NY, US
Dimensions
overall: 8 in x 10 in
Description
B&W image of young boy touching a tape cartridge in the IBM 3850 Mass Storage System. The cartridges are in a honeycomb storage unit with the picker to his right.
Verso: "For Release: Immediate From: IBM Corporation Old Orchard Road Armonk, NY 10504
William E. Whalley 914/765/6451
MASS STORAGE: The 'honeycomb" structure of the IBM 3850 mass storage system, introduced in 1976, stores up to 50 million characters of information on each cartridge reel of magneic tape. Up to 472 billion characters can be economically filed in one 3850 system for on-line computer use.
###"
Category
Photograph