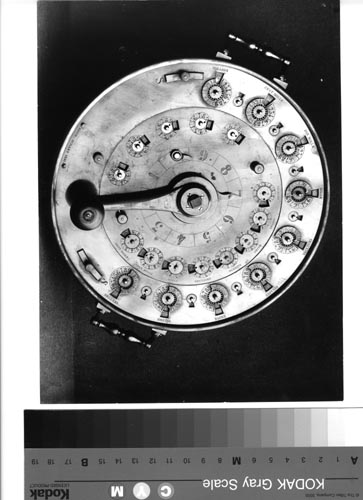 Photographer
H. Roger Viollet
Place of Publication
Paris
Dimensions
overall: 7 in x 9 1/4 in
Description
Black and white image of a circular calculator. It has a centered lever with ball handle and pointer. The pointer can point to the numbers 1 - 9.
Arrangec around the outer circumference are a series of dials with the French numbers units to a million. inside this circle is another set of dials
with numeric labels. The device has handles. At the bottom is a label - ROTH. JULLET 1841. Verso: " Inventions Machines a calculer" in pencil.
Also "Boy 2209 Machine a Calculer Roth 1841 " in pencil. Blue stamp has " REPRODUCTION INTERDITE Pour Authorisation s'adresser a:
H.ROGER VIOLLET 6 rue des Seine - Paris - 5e Teleph: 033.81.10 & 633.35.23
Mention OBLIGASTORIE PHOTO BOYER - VIOllET" Another bolue stamp " H. ROGER VIOLLET 6 Rue de Seine, 75006 Paris
Teleph - Comptabilite: 633.35.23 Archives: 345.81.10 Le retrocession du droit de reproduction de nos photos est interdite sans notre autorisation prealable pour chague parution"
Category
Photograph
Credit
Courtesy of Gwen Bell