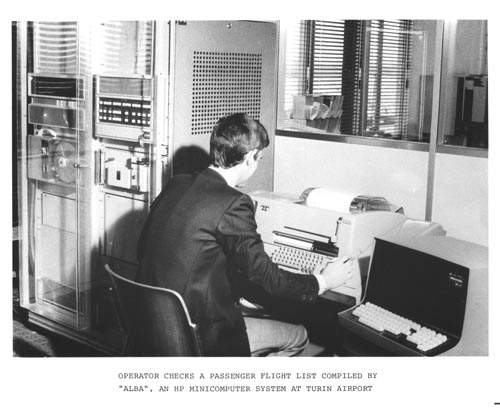 Title
HP - "Alba" Minicomputer Applications
Publisher
Hewlett-Packard Company (HP)
Dimensions
overall: 8 x 10
Description
B&W image of a man seated at a Teletypewriter. On his right is a display with keyboard. To his left are the minicomputer cabinets.
In the background is another room seperated by waist-high windows.
Recto bottom label: "OPERATOR CHECKS A PASSENGER FLIGHT LIST COMPILED BY "ALBA", AN HP MINICOMPUTER SYSTEM AT TURIN AIRPORT"
Category
Identification photograph; Publicity photograph
Credit
Courtesy of Gwen Bell