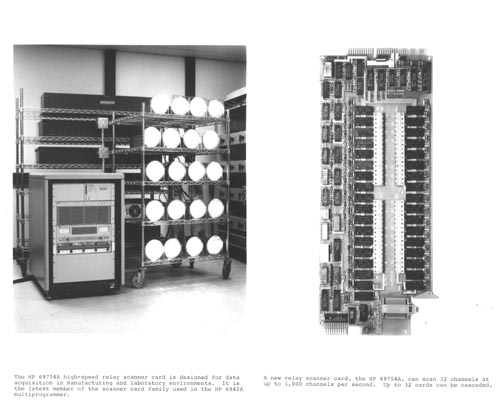 Title
HP - Applications HP 69754A Relay Scanner Card
Publisher
Hewlett-Packard Company (HP)
Dimensions
overall: 10 x 8
Description
Two B&W images. On the left is a HP 6942A multiprogrammer in a laboratory setting. On the right is the card itself.
Recto left label: " The HP 697454A high-speed relay scanner card is designed for data acauisition in manufacturing and laboratory environments. It is the latest member of the scanner family used in the HP 6942A multiprogrammer."
Recto right label: " A new relay scanner card, the HP 69754A, can scan 32 channels at up to 1,000 channels per second. Up to 32 cards can be cascaded."
Category
Identification photograph; Publicity photograph
Credit
Courtesy of Gwen Bell