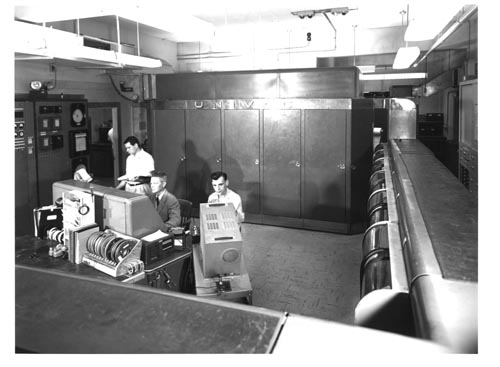 Identifying Numbers
| | | |
| --- | --- | --- |
| Other number | B14 | Verso red ink |
| Other number | P2019 | Verso pencil |
Dimensions
overall: 8 1/2 in x 11 in
Description
Black and white image of an Univac computer room at LLNL. In the foreground there are three men , one ,seated, looking at a display, another,
seated, at the console and the third, standing, with a book in his hand in front of a teletype. In the background are a group of 5 closed cabinets
with UNIVAC on top panel. To the right are a series of unidentifed devices and to the left are control cabinets with meters and dials.
In front of the console is a desk with tape reels and other items.
Verso: Paper label: "Lawrence Livermore Laboratory University of California Graphics Division Neg. No. GLB557-3800( scratched out)"
Category
Photograph
Credit
Courtesy of Gwen Bell