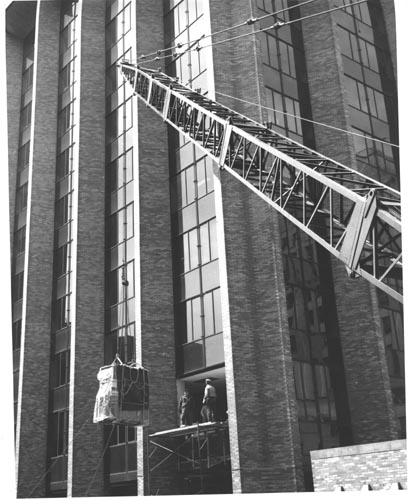 Title
CDC 6600 at the University of New York
Description
Black and white image of a component of the CDC 6600 in a hoist sling as it is being installed at the University of N.Y.
Two men are standing on a platform waiting for the component.
Verso: Black stamp: " New York University Photo by William R. Simmons Date 4/6/65 #59-E7
Information sheet on back: " Alan Kohn -- Ext. 676 (Wash. Sq.)
Mailed: Thursday, April 8, 1965 Caption

A crane with a 100-foot arm swings a 3,600-pound component of Control Data Corporation's 6600 computing system towards window of Warren Weaver hall, the new home of New York University's Courant Institute of Mathematical Sciences. The system was delivered to the Institute April 6. Because of the weakness of the terrain surrounding the building and the weight of the four components, the crane had to be used. The CDC 6600 will be employed by two of the Institute's six divisions, its AEC Computing and Applied Mathematics Center and its University Computing center. -ak-"
Date
1965 ca.
Photographer
Simmons, William R.
Publisher
New York University (NYU)
Place of Publication
Ney York, N.Y.
Identifying Numbers
| | | |
| --- | --- | --- |
| Other number | 59-E7 | Verso ink |
Dimensions
overall: 10 in x 8 in
Category
Photograph
Credit
Courtesy of Gwen Bell