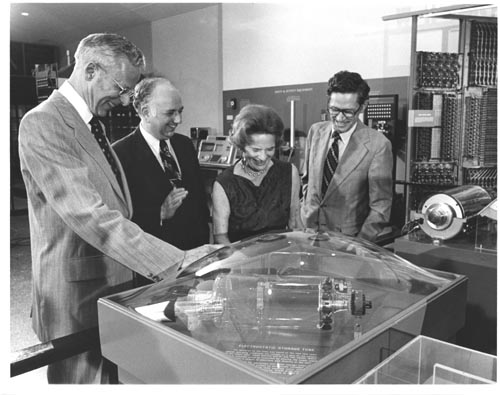 Title
Smithsonian Whirlwind Exhibit
Publisher
Smithsonian Institution
Place of Publication
Washington, D.C.
Dimensions
overall: 8 in x 10 in
Description
B&W image of Whirlwind exhibit at the Smithsonian Institute.
Verso paper : "Some of those responsible for the recently opened "Whirlwind" exhibit at the Smithsonian include ( left to right):
Dr. Jay W. Forrester of MIT who directed the computer project; Robert R. Everett, President of the MITRE corp. of Bedford, MA., second
in command of the project; Mina Rees, Director of the Mathematical Services Division of the Office of Naval Research in the days of Whirlwind, now retired; and Brooke Hindle,. Director of the Simithsonian's Museum of History and Technology where the display is located. -30- For Further information; Alan l. Erskine 271-2488"
Category
Photograph
Credit
Courtesy of Gwen Bell