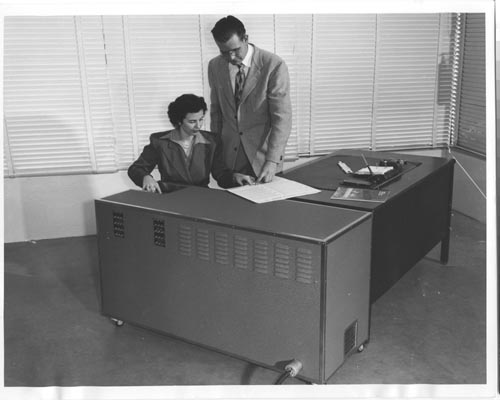 Description
B&W image of Bob Beck and woman using MADDIDA. Written on verso:
"#10885 DESK SIZE MECHANICAL BRAIN... The advances in Maddida in terms of simplicity and miniaturization are of great significance to the scientific and business world. A desk-size mechanical brain, Maddida weighs only 400 pounds. Its compact size and enormous mathematical capacity have resulted from application of new design techniques in computers developed by Northrop Aircraft, Inc. On side of Maddida, at left, are the intake and output lines which lead to Maddida's 'eyes and ears' auxiliary devices which read information on graphs or tapes. The computer can read 12 graphs or tables simultaneously. It can plot six graphs or type out on 12 printers simultaneously as it computes.
From: Public Relations Dept. Northrop Aircraft, Inc. Hawthorne, California."
Publisher
Northrop Aircraft, Inc.
Place of Publication
Hawthorne, CA, US
Dimensions
overall: 8 in x 10 in
Category
Photograph