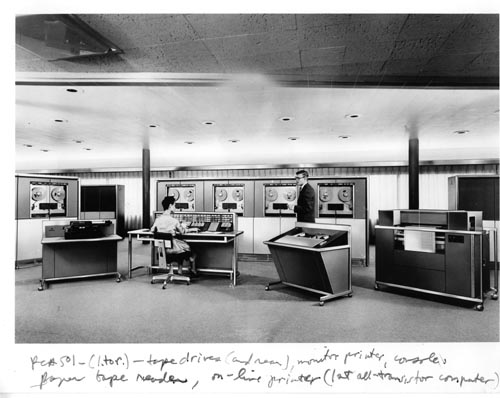 Dimensions
overall: 8 in x 10 in
Description
B&W image of RCA 501 computer system. Shows tape drives and system frames in background. In center is woman sitting at console.
To her right is a paper tape reader and a printer. To her left a typewriter. A man is standing in front of tape drives talking to her.
Writing on bottom margin: " RCA 501 (l. to r.) tape drives (and rear), monitor printer, console, paper tape reader, on-line printer (1st all-transistor computer)."

Curator note: "RCA 501 (1958) Electronic Data Processing System
General purpose, self checking & readily expandable
Capable of handling alpha-numberic data w/ magnetic tape, punched paper tape and punched card input & output
Drum storage devices to provide fast random access"
Category
Photograph
Credit
Courtesy of Gwen Bell