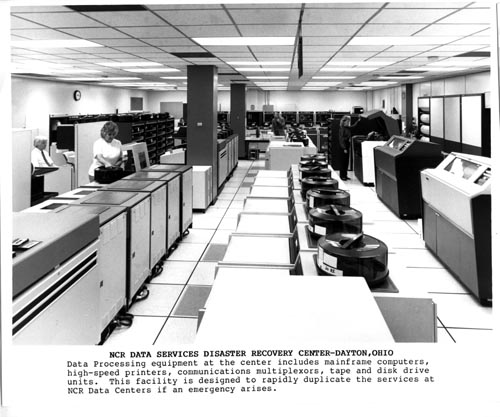 Title
NCR Data Services Disaster Recovery Center
Dimensions
overall: 8 in x 10 in
Description
B&W image of NCR Disater Recovery Center. In center a row of disk drives. To right printers, to left more disk drives and in background tape drives.
There are several people in picture operating various devices.
Caption bottom margin: "NCR Data Services Disaster Recovery Center - Dayton, Ohio
Data Processing equipment at the center includes mainframe conputers, high-speed printers, communications multiplexors, tape and disk drive units. This facility is designed to rapidly duplicate the services at NCR Data Centers if an emergency arises."
Category
Photograph
Credit
Courtesy of Gwen Bell