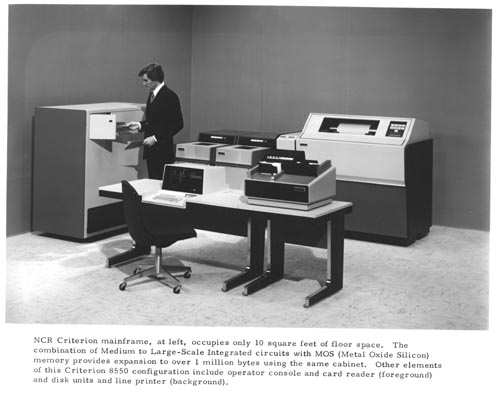 Title
NCR Criterion 9550 System
Dimensions
overall: 8 in x 10 in
Description
B&W image of NCR Criterion System. A man is standing to rear.
Caption bottom margin: " NCR Criterion mainframe, at left, occupies only 10 square feet of floor space. The combination of Medium to Large-Scale integrated circuits with MOS (Metal Oxide Silicon) memory provides expansion to over 1 million bytes using the same cabinet. Other elements of this Criterion 8550 configuration include operator console and card reader (foreground) and disk units and line printer (background)."
Verso paper label: "(c) The Computer Museum History Center Contact us for reproduction rights."
Category
Photograph
Credit
Courtesy of Gwen Bell