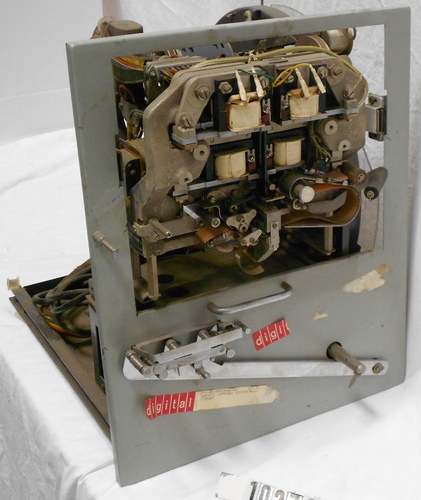 Title
Paper tape reperforator
Manufacturer
Teletype Corporation
Place Manufactured
Skokie, Ill.
Identifying Numbers
| | | |
| --- | --- | --- |
| Model number | MODEL 1832962 001 | Etched on a metal housing on the object |
| Other number | CODE DRP600 | Etched on a metal plate on the left side |
| Other number | SER 2854 | Etched on a metal plate on the left side |
Dimensions
overall: 18 1/4 in x 15 in x 20 in
Description
The object is a machine on a metal frame with a power cord and a connector cord attached to it. The case for the object is missing. On the right side of the object is a tape reel with paper tape still attached. On a clear plastic cover on the tape reel are an operational diagram and several operational messages: "EMPTY CHAD BAG WHEN TAPE ROLL IS REPLACED," "FLATTEN TAPE ROLL BEFORE LOADING, and "TO POSITION DOOR FOR TAPE WIDTH, RELEASE LATCH AND PRESS IN DIRECTION OF ARROWS." A date on one of the parts indicates that it was made in 1962. On the front are a read head and a punch head. Also on the front is a take-up reel. A paper sticker attached to the front reads "digital DEC-8E-AMSSA-A-UA2 9/7/72."
Category
I/O/paper tape device
Credit
Gift of Boston University Medical Center