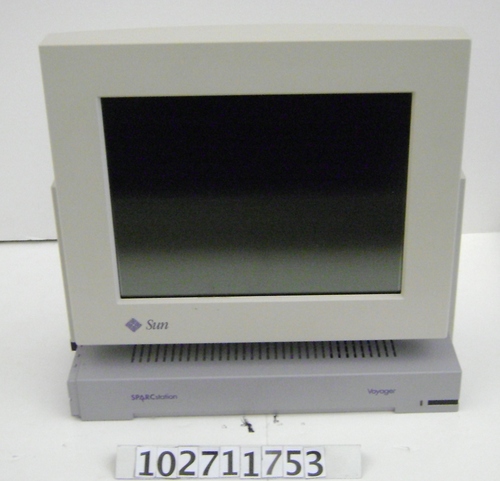 Title
SPARCstation Voyager
Manufacturer
Sun Microsystems
Place Manufactured
U.K.
Identifying Numbers
Model number
146
Other number
523M2071
On label on underside
Other number
600-3656-01
On label on underside
Other number
M011683
On label on underside
Other number
S240
Small label on back
Serial number
523M2071
On back of unit
Dimensions
overall: 14 in x 14 1/2 in x 5 1/2 in
Description
SPARCstation Voyager consists of a gray base with nine ports on the back for connecting peripherals and ethernet and on one side a power port with metal handle for possible removal. Monitor is attached to base on a vertical component containing 3 1/2 in hard desk drive slot, two cartidge slots, and headphone and speaker ports. There are four small dark spots on the monitor to the upper right of the Sun logo. Peripherals in image not included with this object.
Category
Digital computer/workstation
Credit
Gift of Alex Fasan