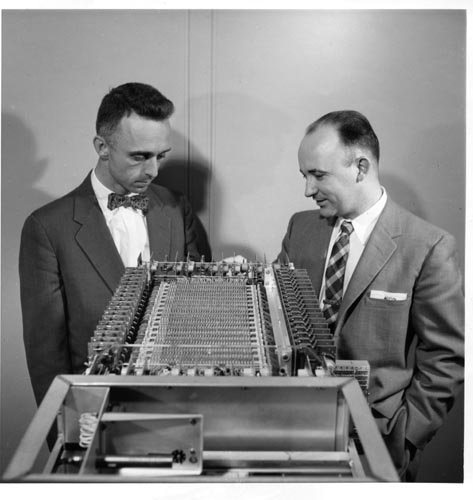 Title
Leprechaun - Bell Labs Digital Computer
Description
B&W image of two men looking at a part of the BelLab's Leprechaun computer.
Metadata:" Public Relations Photo Service (201) 582-5661
Subject: Computeras
General - Leprechaun Number B 1355/0-6
Date Taken: 1957
Source: Release, May 27, 1957

Background Information: J.A. Githens and J.A. Baird of Bell Telephone Laboratories check the control panel of Leprechaun, a new high speed digital computer. Developed under Air Force contract, this extremely flexible electronic computer is distinguished by its low power and small size. One outstanding feature of the computer is that it can be used as a test model for research on digital computers designed for military applications. Proposed designs can be laboratory tested without building new equipment by reconnecting Leprechaun's components to simulate the desired apparatus. While LEPRECHAUN is still in the experimental stage, the techniques developed are expected to have many future applications.

Verso: black stamp: " This print is Job B-1355 Sheet Freame 11"
Date
1957 ca.
Publisher
Bell Telephone Laboratories, Inc.
Identifying Numbers
| | | |
| --- | --- | --- |
| Other number | #1615 | Verso pencil |
| Other number | 25-4-22 | Verso inkl - crossed out |
| Other number | 253 | Verso pencil - crossed out - paper sticker |
| Other number | 6.1.3-5 | Verso ink - crossed out - paper sticker |
| Other number | B1355/0-11 | Verso pencil - |
Dimensions
overall: 10 in x 8 in
Category
Publicity photograph
Credit
Courtesy of Gwen Bell