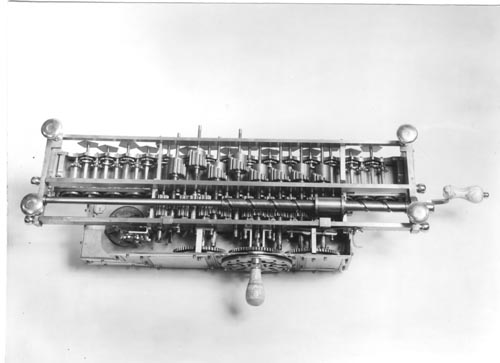 Title
Leibniz - Erste Rechenmaschine
Description
Black and white image of a Leibniz calculator. It has cover removed to show gears and rotating knobs.
Verso: Small gold sticker: " Copyright by DEUTCHES MUSEUM Postfach 8000 Munchen 26 BLD NR"
Verso white paper sticker typewritten: " Erste - Rechenmaschine von Wilhelm Leibniz
1671- - 1694 21 cm breit, 12,5 cm hoch, 68.5 cm lang Nachbildung"
Identifying Numbers
| | | |
| --- | --- | --- |
| Other number | #117 Copy 2 | Verso pencil |
| Other number | 100 | Verso white paper sticker in pencil |
| Other number | 7235 | Verso white paper sticker Typewritten |
Dimensions
overall: 4 in x 6 in
Category
Photograph
Credit
Courtesy of Gwen Bell