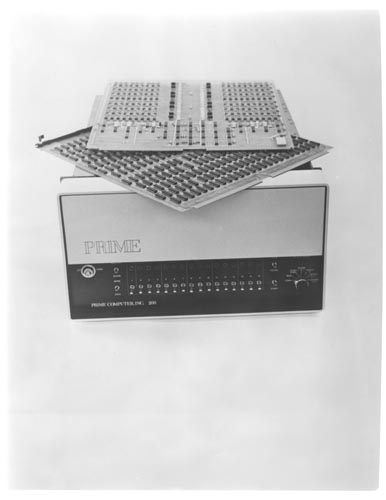 Dimensions
overall: 10 in x 8 in
Description
B&W image of Prime 200. Two of the large boards are shown on top of the computer. The front of the computer has switches, lights and a rotary selection switch.
Attached metadata: "The PRIME 200 incorporates several hardware design firsts. It is the first computer to use MOS semiconductor memory exclusively; the first computer to eliminate all wires within the mainframe through large-board packaging; the first computer to employ 100 percent microprogrammed logic. Each feature is intended to allow the PRIME 200 hardware to do its chief job -- develop and execute software with the greatest speed, efficiency and cost-effectiveness that technology allows.
From: PRIME Computer, Inc. 17 Strathmore Road Natick, Mass. 01760 For Immediate Release Contact: Gabe D'Annunzio"
Category
Photograph
Credit
Courtesy of Gwen Bell