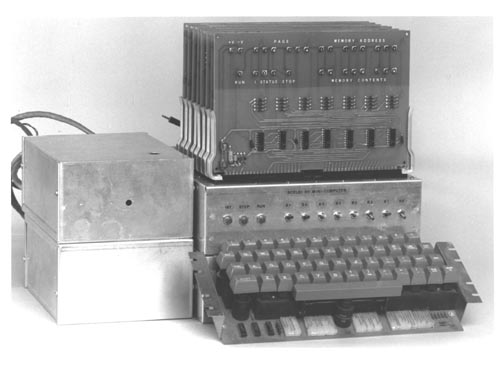 Identifying Numbers
| | | |
| --- | --- | --- |
| Other number | 85m-2679 | Verso |
| Other number | P4673 | Verso |
Dimensions
overall: 8 x 10
Description
Black and white. Scelbi 8-H system. Consisting of a keyboard, 4 metal component boxes with the circuit cards mounted on top of two of the boxes
Verso blue stamp: " Entered Mar 11,1998"
Metadata: " Nat Wadsworth, the SCELBI's chief designer, thought the computer would be used in scientific, electronic, and biological applications;
hence , the abbreviated name "Scelbi". The SCELBI was based on the INTEL 8008 microprocessor and was available both in kit form and fully assembled. It had 4K of internal memory, cassette tape and teletype interfaces, and a C.R.T. based on an oscilloscope."
Category
Publicity photograph
Credit
Courtesy of Gwen Bell