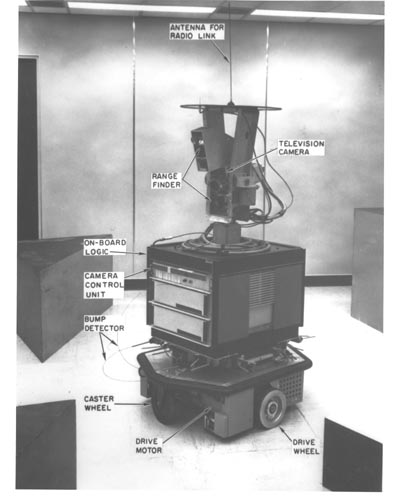 Identifying Numbers
| | | |
| --- | --- | --- |
| Other number | 854-2508-1 | Verso |
Dimensions
overall: 10 x 8
Description
Black and white. Image has labels pointing to various parts of the robot, i.e. Antenna, Television camera, on-board logic, etc.
Metadata supplied with image: " Shakey the Robot Stanford Research Institute Shakey was the first fully-mobile robot with artificial intelligence. He stands 7' tall with antenna, has a tv camera, and touch and distance sensors. (86) Return to The Computer Museum, 300 Congress Street, Boston 02210, Attn: Archives".
Verso faint pencil: " The negative for this photo is on file u/ Fayfoto 201 South Street Boston, MA 02111 (267-2000)"
Category
Identification photograph
Credit
Courtesy of Gwen Bell