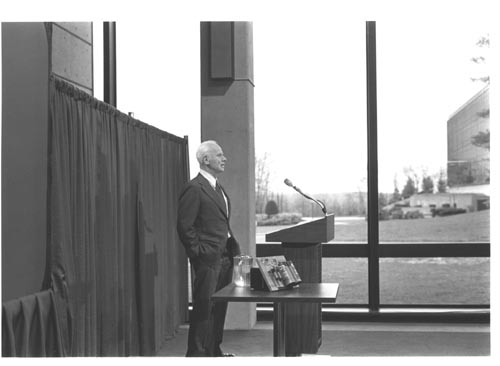 Title
George Stibitz Lecture
Date
1980-05-08
Publisher
Digital Computer Museum
Place of Publication
Marlboro, Mass.
Dimensions
overall: 8 x 10
Description
B&W image of George Stibitz giving lecture at the Digital Computer Museum, Marlboro. He is standing in front of dias with microphone, a pitcher of water and an exhibit is on a table to his right. There is a large window to his left with a view of a lawn and countryside.
His lecture was part of the Second Pioneer Lecture series titled "The Bell Labs Relay Computers"
Verso: pencil: George Stibitz (2) also bottom right corner 10/74 3A-R2.
Category
Identification photograph
Credit
Courtesy of Gwen Bell