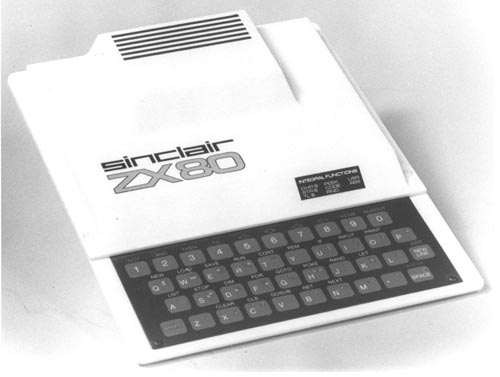 Identifying Numbers
| | | |
| --- | --- | --- |
| Other number | 85m2679 | Verso |
| Other number | P2070 | Verso |
Dimensions
overall: 8 x 10
Description
Black and white image of Sinclair ZX80. Shown is the computer with enclosed keyboard .Label on front - Integral Functions CHR$, STR$, TL$, PEEK, CODE, RND, USR, ABS
Metadata: " Manufatturer: Sinclair Research LTD Year Built: 1980 February
Description: The Sinclair AX80 was based on the Zilog Z80A microprocessor. It had an internal RAM of 1K. A 4K integer version of BAsIC was also available in ROM. The machine used a mebrane keyboard for ihjput and a domestic TV as its display device. Programs and data could be sotred on standard cassette tapes."
Category
Identification photograph:Publicity photograph
Credit
Courtesy of Gwen Bell