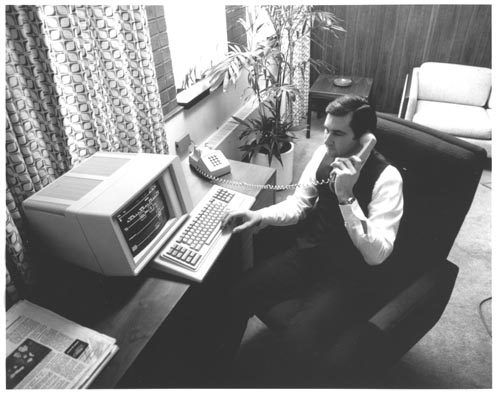 Title
Sperry Univac SPERRYLINK System
Publisher
Sperry Univac
Place of Publication
Blue Bell, PA, US
Dimensions
overall: 8 in x 10 in
Description
B&W image of a man seated at an office desk talking on the telephone. There is a display screen and keyboard on the desk.
Verso Attached metadata: "The new SPERRYLINK office system from Sperry Univac brings together word processing, data processing, personal computing, electronic mail and voice services for all levels of office personnel. The system combines a wide variety of office functions into one easy-to-use deskstation. SPERRYLINK is one of the easiest office automation systems to operate available on the market today. It is also a simple matter to apply SPERRYLINK in using mathematical formulas for forms processing.

From: Michael M. Maynard Sperry Univac P.O. Box 500 Blue Bell, Pa 19424 Tel: 215/542-4213"
Category
Identification photograph
Credit
Courtesy of Gwen Bell