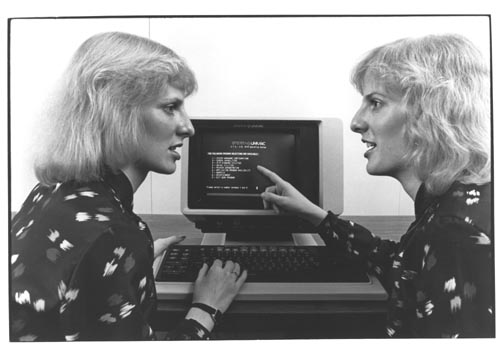 Title
Sperry Univac UTS 40 system
Description
B&W image of two women in front of a display.
Verso attached metadata: " Identical Twins Demonstrate "Dual Personality" of Sperry Univac's UTS 40 Intelligent Terminals Identical twins, Nina Smoyer and Nancy Schodowski of the Sperry Univac headquarters staff in Blue Bell, Pa., will demonstrate the "dual personality" of the Sperry Univac UTS 40 intelligent terminal at the National Computer Conference, Houston. With a newly announced Control Program/Microprocessor (CP/M*) feature for the UTS 40, the same unit can be used as in interactive communications terminal or alternatively as a personal computer. The CP/M on the UTS 40, which included 65K of Random Access Memory, is available on either a single station or clustered workdstation.
*CP?M is a registered trademark of Digital Research, INC>

From: Michael M. Maynard Sperry Univac P.O. Box 500 Blue Bell, Pa 19424 Tel: 215/542-4213"
Publisher
Sperry Univac
Place of Publication
Blue Bell, PA, US
Dimensions
overall: 8 in x 10 in
Category
Identification photograph
Credit
Courtesy of Gwen Bell